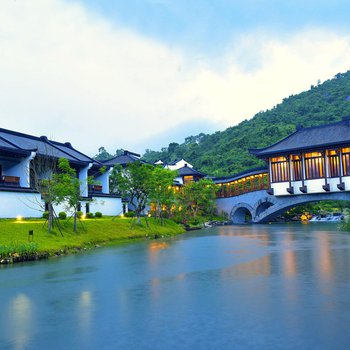 CITIC XANALIDO Hotspring Resort is a theme boutique resort hotel, with the characteristics of "Chinese style building and oriental artistic conception", which was designed by world-class design master Bill Bensley. It lives up to its reputation as "60 Asian most beautiful resort guest rooms", and was awarded the "Best Design Hotel of the Year" at 2015 Asia Hotel Investment Summit.
"XANALIDO", is a fairyland full of trust, happiness, politeness and wisdom where the ancient celestial being lived. Legend has become to reality since XANALIDO was introduced into "CITIC Hotspring" in Huizhou. With unique landscape comprised of lake, stream, waterfall, mountains, CITIC Hotspring provides you with high grade holiday experience such as hot springs, guest rooms, catering, conference and fitness.
Lakes, waterfalls, streams, terraces circle around and decorate this place. It's various for you to choose check-in lake view room, pastoral view room or mountainside tent based on the guest's preference. Boats or electromobiles are available to kindly lead you to guestroom or other locations inside. Scenery changes with every step. It is as beautiful as a painting. Hot spring, cold spring and perrier are embraced as an integration. You can enjoy a hot spring bath both in the Spring Palace and in your exclusive guest room.
Resort is decorated in style of Song Dynasty, along with two corresponding restaurants, "Su Dongpo " Restaurant and "Manjianghong" Restaurant. It is able to undertake catering activities such as Chinese and western food, buffet, wedding banquet and cocktail party. The local specials as Dongpo Pork, baked spring fish head are widely acclaimed.
Welcome to CITIC XANALIDO Hotspring Resort and look forward to serving you with a unique holiday experience.